Holistic Health / Counseling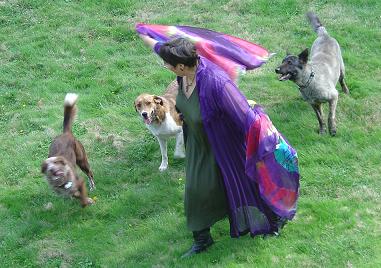 Lynda Cole R. N.
Holistic health and music have been the two main passions in Lynda's life for many years. After majoring in music in college for three years, Lynda apprenticed under a posture therapist and then became a massage therapist. She studied many holistic modalities, among then deep tissue massage, Jhin Shin Jyutsu, acupressure, aikido, hypnosis, breath work, meditation, and yoga.
In 1987, Lynda completed her associates degree in nursing and became a mental health nurse. In 1990 she and her husband Mike moved to the Oregon Coast near Coos Bay. For the next nine years she worked as a hospice nurse, frequently taking her harp with her, playing and singing to her patients. She then returned to mental health nursing part time at Bay Area Hospital, continuing to share her music with patients and staff.
In the mid 1990's Lynda took a two year training in Hakomi Therapy. This counseling approach helps individuals gain insight into themselves through a contemplative approach called mindfulness. The practitioner assists the client in slowing down and observing thoughts, emotions, and cues from the body. This allows a deepening into their inner selves, gaining understanding about old trauma, and beliefs usually hidden from the conscious mind. This approach helps the client to accept and let go of the past, moving into greater wholeness. Mindfulness also helps us notice and strenghten what works in our lives, and what brings us joy.
Studying many approaches to health and well-being has taught Lynda that no one approach has the answer. Wholeness depends on integrating many emotional, physical and spiritual factors. As well, each person has his or her own unique way of coping and integrating. Lynda blends and applies her varied training, experience and intuition to her work with clients. Each session is different, geared to the individual in the moment.
Lynda has a private practice by appointment for Hakomi based counseling sessions.
Mindfulness Classes
Lynda teaches a four class series at Bay Area Hospital called "Relief Right Now" a mindfulness based stress reduction program. (see calendar for schedule) call (541) 269-8076 or (541) 269-8430 for information
Lynda was one of the teachers for several years for DBT, Dialectical Behavioral Training program through Bay Area Hospital Mental Health Clinic.Due to budget cuts, she is no longer one of the teachers, but the program continues. Call (541)751-1061 for information. This course combines mindfulness and cognitive therapy and is designed to help clients develop improved coping strategies for difficult emotions and life events. It is a helpful tool for anyone, but was created by Marsha Linehan for people with post traumatic stress disorder, borderline personality disorder, anxiety disorder, or major depression.
Lynda works on call at Bay Area Hospital's Behavioral Health Unit in Coos Bay. She works a few shifts a month filling in as an R.N., doing Mental Health evaluations in the emergency department, and as recreational therapist for the behavioral health unit leading educational groups and sharing her music.
Lynda teaches workshops in retreat settings; "Mindfulness," "Opening to Our Creativity," "Playful Vocal Improvisation," "Letting Go of Old Patterns," and more. She is also available as a guest lecturer and frequently combines teaching with sharing her music.