Music Background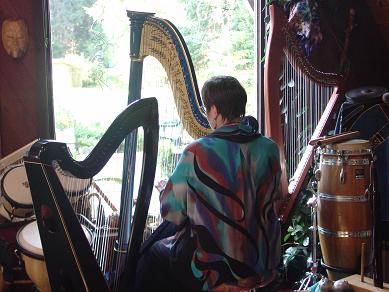 Lynda has been playing flute for over 40 years. She was an undergraduate in music at College of Marin and Sonoma State College for three years. Improvising by ear has always interested her more than reading other people's music. Her music is inspired by listening to many styles of music from all over the world. She has played flute with latin jazz, pop, blues, world beat, and Middle Eastern influenced musicians.
She started playing a Paraguayan folk harp in 1987,which has led to a deep passion for the harp. Lynda has attended many harp conferences and workshops, studying with a variety of harp teachers. For eight years she played an unusual kind of harp called a cross-strung or chromatic harp. For the past few years her main harp has been a Camac acoustic electric pedal harp. She has performed harp in many settings; weddings, concerts, art openings, parties,hospitals,funerals,fundraisers, and as part of her presentation as a public speaker and mindfulness teacher.
Lynda sings and improvises with her voice. She has developed her own unique singer-songwriter style on harp and voice. She has composed many songs for voice and harp, and leads workshops in playful vocalization Lynda in available for private lessons on harp, flute, native flute, and vocal improvisation. She teaches workshops on playful vocalization, and opening to creativity.
She is available for performance on harp, silver and Native American flutes, and voice, both as a solo artist and with a varity of professional musicians in New Age, blues, and world beat and her own original style of music.